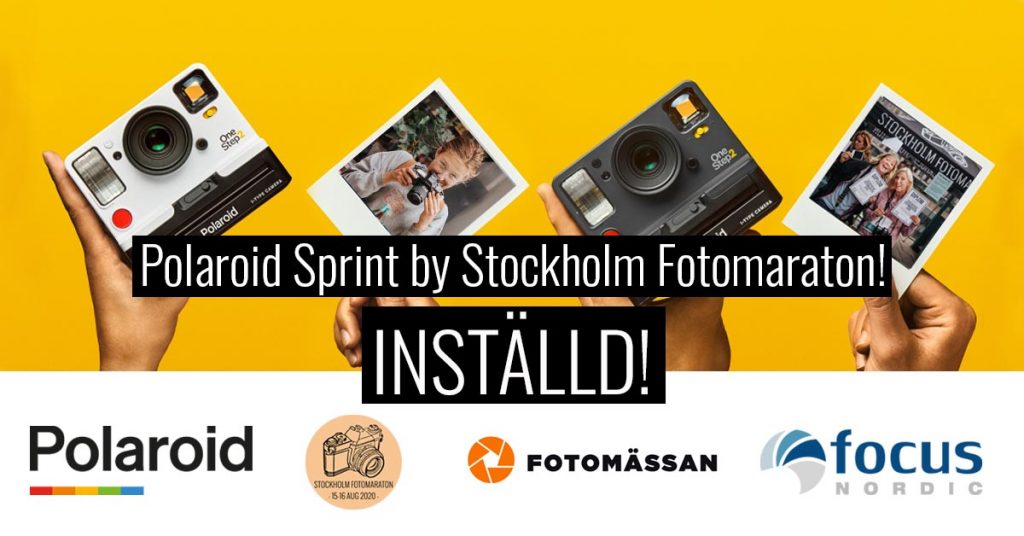 Polaroid Sprinten den 28 mars är inställd…
Onsdagen den 11 mars beslutade regeringen att begränsa större folksamlingar i syfte att minska risken för spridning av COVID-19 (Corona). Som en direkt följd av detta kommer inte Fotomässan att genomföras på planerade datum och till följd av det kommer vi tyvärr inte heller kunna genomföra Polaroid Sprinten.
För dig som redan anmält sig, mer information kommer via mail!
Polaroid sprint by Stockholm Fotomaraton!

On March 28 Stockholm Fotomaraton together with Focus Nordic will host a Polaroid sprint at Stockholm Fotomässan.

5 hours - 4 themes - and a really fun day awaits!

Don't you have a Polaroid camera?
Then you can borrow one, we have a limited number of cameras witch means first come, first served. You can book the camera when you sign up for the event.

You can join or cancel the event throughout the day, which means it's okay to participate only in certain themes. See the schedule below for more information.

The winner of each theme will be announced on Sunday, March 29, where you can expect some really nice prices!

IMPORTANT!
To participate in the Polaroid sprint you also need a ticket to the Fotomässan.
Find tickets here.

Price for the Polariod sprint:
SEK 80 - ticket for participation and loan of camera.
SEK 50 - ticket for participation, using your own camera.
Find tickets here.

Schedule March 28:
09: 00-11: 00 Check-in and pick-up of the cameras.
11:00 Start with theme 1.
12:00 Pickup of theme 2 in our booth and submission of theme 1.
14:00 Collection of theme 3 in our booth and submission of theme 2.
15:00 Collection of theme 4 in our booth and submission of theme 3.
16:00 Finish, with submission of theme 4.

Sunday, March 29:
Prize ceremony - More information coming soon.
Polaroid sprint is organized by Focus Nordic and Stockholm Fotomaraton.